Walter McGuffie - Olympic Wrestler
Walter was born on 7th December 1916. He lived at Worsley Road in Walkden, Gower Street in Farnworth and Halliwell Road, Bolton, where his family had a machine shop.
Walter's father Thomas McGuffie was a keen wrestler and coached his two sons Walter and Les after he retired from wrestling. Thomas's life was nothing but wrestling, he would also work as an odd carrier for a roofing firm.
The wrestlers met usually in the upstairs room of Horsfield shop, this was a grocer on Market Street, Farnworth. They would often wrestle on old mats and sometimes on the field.
The wrestling club was amalgamated with Bolton Harriers and had premises on Bridgeman Street.
Walter worked in a mill on Hebdon Street, Moses Gate. In 1938, he went to work in Birmingham in an engineering firm. In 1940, he came back home to Bolton. He enlisted for the army, although he failed the eye test after visiting the opticians on Chorley New Road. He was sent to the Chloride Bleach Works at Clifton, Salford and worked there for the duration of the war.
After the war, he went to work in the warehouse of an engineering firm in Walkden.
Cracked photo - men on left white baggy shorts, Walter front row, Les McGuffie (brother), Father Thomas McGuffie middle row wearing spectacles.
1942 During the war, Walter McGuffie won the English, Irish and Scottish Championships.
1946 He won the Parish Championships.
1947 He was runner up at the Copenhagen Championships.
| | |
| --- | --- |
| | |
| 3rd from left Nesbitt, 7th from left Herbie Hal,l last Walter McGuffie | Les Cheetham, Walter McGuffie, Herbie Hall |
1944 - 1951 Walter was British Champion - nobody could beat him.
1948 British Olympic Wrestling Team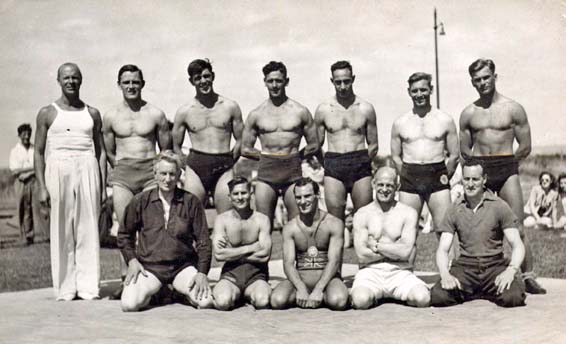 1948 London Olympics held at Hayling Island, Essex

Above and below: Below: Olympic Centre Uxbridge

Below left: Olympic Team and officials
1952 he broke his rib in his first bout. He was strapped up but was in agony. He had 6 more fights and in his final bout he pulled out as he was in tremendous pain.
1996 April 8th sadly Walter died.
Below the McGuffie wrestling legacies carries on as the young boy in the photographs is Walter's Great Nephew, Paul Mcguffie (now in his 20's) with his father Ron and Walter in his later years.
Paul is a keen wrestler and has won many competitions at home and abroad.