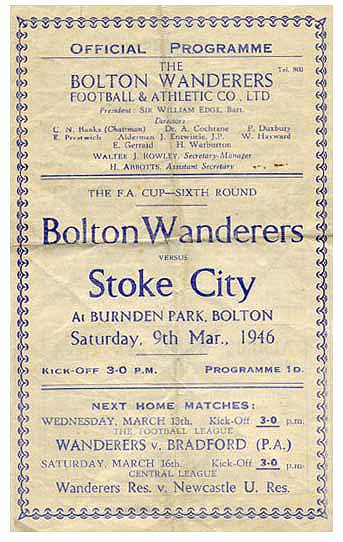 Burnden Park Disaster 1946
On Saturday 9th March 1946, Bolton Wanderers were playing Stoke City in the 2nd leg of the 6th round of the FA Cup at Burnden Park, Bolton. The 1st leg had been played at Stoke and resulted in a win for Bolton, Ray Westwood scoring 2 goals for Bolton.
Besides a lot of local interest, people came from far and wide because this was the first year the FA Cup was being played for after the War, and things had started to get back to normal. Players were coming back home from the forces, and players like Stanley Matthews for Stoke, Ray Westwood for Bolton, both international players were in the teams that day.
During the War the League North and league South had been competed for, and winners of League North Cup played League South Cup winners.
In 1945 Bolton Wanderers beat Manchester United in a two legged match in the League North Cup Final, Chelsea won the League South Cup, so the Football League War Cup, North v South Cup Final, was between Bolton and Chelsea, and Bolton won 2-1.
It was in this kind of atmosphere that my brother Bill and myself decided to go to the match that day, and we paid at the turnstiles, no tickets in those days.
We decided to go in the Great Lever Stand, (opposite end to where the tragedy occurred), which was covered from the elements, there were no seats on the Great Lever or Bolton sides of the grounds, and we stood about halfway up the Stand just to the left of the goals looking on to the pitch. The Kick off was 3pm. We had queued for sometime and eventually got into the ground about 1-45pm.
Entrance to the Bolton End of the ground which had no roof, and where the disaster happened, was from Manchester Road only. Going through the turnstiles and on the right was a Bar where pies and drinks could be obtained, and people used to congregate round this bar, and would not move from there.
About 2pm, looking from Great Lever End towards Bolton End to left of the goals there was a mass of faces and no spaces between these faces, (this is where the tragedy occurred), whilst farther over it was evident that there was room, but people would not move over to the Burnden side of the ground, but also it could be seen that people were climbing into the ground from the Railway, so they didn't pay.
The official attendance was over 65000, but I think there were many more.
The match started, everything going well, then we saw the crowd spilling on to the football field and we did not know nor realize what was happening. The players left the field and people were being carried off on stretchers, some of these had their arms dangling over the side, I thought they look dead. Eventually the players came back (after about half an hour) and the game continued and finished a no score draw. Bolton won on aggregate, and entered the FA Cup Semi Final.
There were rumours going round that 17 people had died, Bill and myself lived on Hall-ith-Wood estate and we walked home from Burnden Park. On our way home, we were asked a few times had we been to the match and what had happened.
It was only when we arrived home and listened to the Wireless (no TV in 1946), that we found out what had happened, Barriers had collapsed and 33 people had lost their lives and many injured. We were shocked. Who would have thought that going to a football match would result in such a tragedy.
The FA Cup Semi-final was played at Villa Park against Charlton Athletic, I travelled with a party from Booth's Steelworks where I worked, to watch the match. Bolton lost 2-0. Chris Duffy the Charlton left winger scored both goals.
Yet Another Escape - Burnden Park Disaster 1946
After surviving over 1,000 hours flying time, which was extremely lucky for an W/OP AIR GUNNER - whose life span was usually very short. This is another story, which springs to mind, as this week is the 57th anniversary of the Burnden Park disaster.
It was Thursday morning and I was in the mess when an officer came in and asked who lives near Manchester. We want a w/operator to escort the rugby team to Ringway from Bishops Court N/Ireland. I volunteered knowing I would get a weekend off and go back Sunday morning thus seeing my home team play Stoke in the sixth round of the F. A. Cup so, I was happy when it was arranged I should go.
Imagine my disappointment when I got a telegram Saturday morning 'please report back to Manchester' apparently the rugby team had played Friday and we were called back early. Well I set off Saturday lunch by train and looking through the windows of the train, I could see all the fans on Manchester Road going for a good position at the Bolton end, where I always went. The stands enabled me to get a very good view of the match. Where I had spent many hours watching my favourite football idols, however I had a job to do and orders are orders.
I arrived at Ringway airport; the rugby team were already there having had a successful win. We boarded the plane for permission to head for our destination, which was Bishops Court N/Ireland, and I received the appropriate answer, Scram, the pilot then set course for Bishops Court. We were half way over the Irish Sea and I switched on the BBC. The news completely stunned me, there had been a terrible accident at Burnden Park later on we learned there had been so many fans crushed and killed due to barriers collapsing, and on Sunday, the full story was horrendous.
It was a quirk of fate that I had been recalled early back to camp which more than likely saved my life, for it was the exact spot where I used to stand that the disaster happened. On landing safely and making for the camp, I felt very lucky to have been saved once again. But my heart and thoughts went out to those poor fans and their families.
So, 57 years later this weekend they were in my thoughts again.